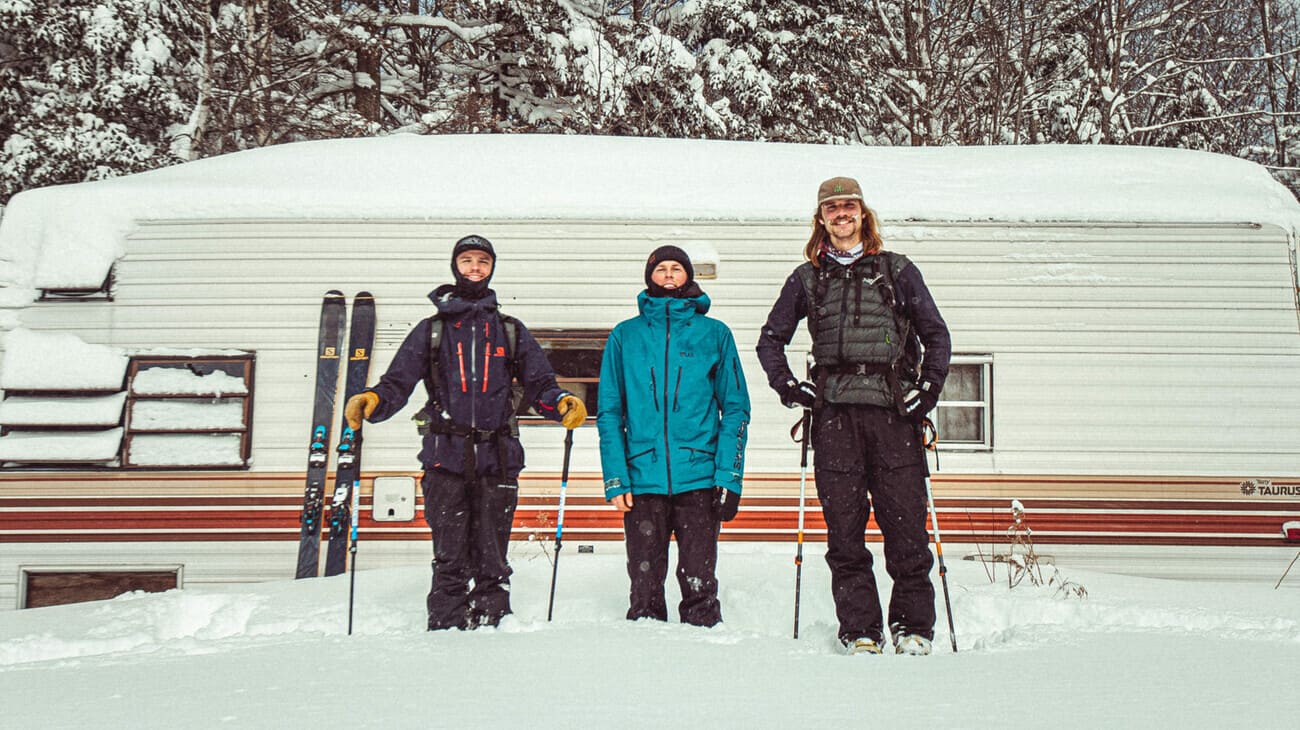 A Quebec film in the official selection
Far Far Est tells the story of a road trip made in Quebec and on the American East Coast during a spring break where skiing, surfing and humor burst the screen. It's also a dream come true for the co-producer Zacharie Turgeon whose film will also be presented as part of the Banff Mountain Film Festival's Quebec World Tour from January 20-31, 2021.
Q – Bravo Zacharie! Very few films from Quebec make it to the Official Selection of the prestigious Banff Mountain Film Festival! Can you describe the pride you felt when you heard the news?
R – I couldn't handle myself anymore! Sweaty hands, limp legs, knotted stomach, wheezing, I went through all the symptoms of intense surprise when I opened the festival announcement email. It's a great sense of pride to realize one of one's dreams as a kid. It sets the bar high for the next project!
Q – Do you remember the first time you dreamed of having one of your films in the festival?
R – Olivier, Charles-Antoine and me, We've been making videos of our crazy things since we were young. It's hard to pinpoint the first time the idea came to us. But every time we came out of the Festival tour performance in our hometown of Gatineau, it was the only thing we could think of.
Q – How did you get the original idea for the film?
R – Charles-Antoine and I live together in Quebec City. Once in a while, we get the urge and start throwing ideas around over a beer. Far Far Est was the combination of several ideas that were lying around in our notebooks, but which had never been concretized.
It's been many years since we left behind the dreams of becoming professional athletes, but we always told ourselves that doesn't mean our adventures aren't worth telling. We wanted to create a film that would show our definition of a good adventure. We also made a promise to ourselves to never take ourselves too seriously.
All three of us being students, we know how mythical spring break is for everyone. In Quebec, it often takes the form of a warm week lounging on southern beaches with an alcoholic beverage in hand. We spent 10 days in a non-insulated van in sub-zero temperatures trying to stay warm between our skiing and surfing sessions. Mixing that in with some gags and metaphors that were a little (too) intense, we figured it would probably make several people laugh! 
Q – Are there any films that have inspired you in particular? What were the biggest challenges of this film? 
R – I have always said openly that I "fly like an artist" (from the book Steal Like an Artist de Austin Kleon). I draw from many styles to build my own. The directors I admire have a huge impact on my approach to creation: people like Trevor Gordon ou Alec Pronovost who manage to build original stories without ever taking themselves too seriously.
The big challenge was to trust my ideas. In the world of adventure films, I find that the emphasis is often on the intensity of the adventure, the level of risk and the pushing of human limits. We wanted to prove to ourselves and to others that telling an original and slightly more marginal story was just as valuable. When I saw people's reaction to the film, it reminded me that sometimes you have to be stubborn and go forward with your ideas, no matter how silly they may seem.
Q – Making a film is a team effort. How did it go between you?
R – I am very privileged to be able to do projects like Far Far Est with my two childhood friends. Charles-Antoine and Olivier know that I can be intense when we're shooting, but the fact that we've been around each other for so long has allowed us to be transparent from the start. With limited time and resources, we had to be very efficient. We know when it's time to push each other and when to let go. A little friction between us sometimes leads to better ideas.
Writing and producing the film with Charles-Antoine was a good headache to build. We also received precious help from friends who believed in our project. I'm thinking of Dominic Faucher, Raphael Desharnais, William Lamoureux and many others. This allowed us to take the project further. 
Q – CHow did your filming go, both in Quebec and on the American East Coast? Any memorable anecdotes?
R – This is definitely the kind of trip we will tell our grandchildren about in 50 years! We were searched by an insistent customs officer, woken up by the police in the middle of the night and froze our fingertips a few too many times…
Our biggest day of shooting was at Mount Washington, a mountain for which the approach is nearly 5 km with 750 m of positive elevation gain. We got up at 5 am, no time for a coffee, and started to climb. After having dragged of misery my bag of camera and my tripod until the base of Tuckerman Ravine, I realize that I left my batteries of camera in the parking lot! At the same time, the sky clears and the sun begins to shine on the corridors. For those of you who know the place, days like this only happen a handful of times in a season. I went down the uphill run with my skins tucked into my ski pants. The climb back up to the bowl was painful, but the footage I shot that day was priceless. Thanks to my years of competitive cross country skiing for the cardio!
Q – If you were on stage in front of a Quebec audience, what would you say to the people in the room?
R – It probably sounds like something cute and really cliché! Like never shutting up the little kid in you and never stopping to play outside. The value of an adventure is not measured by how high you reach, but rather how much fun you have! And we would also tell them not to take us too seriously.