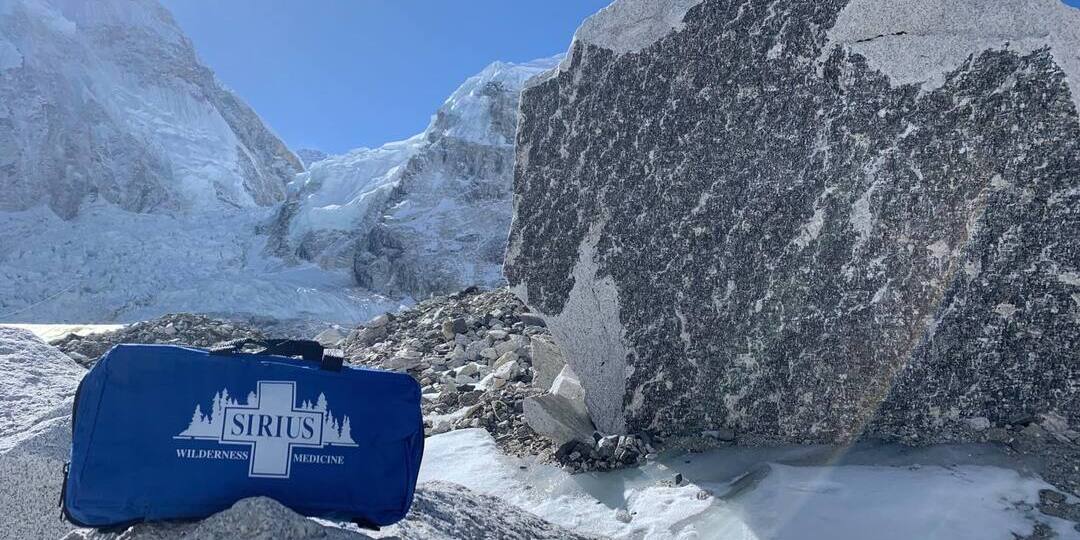 SIRIUSMEDx : First aid kit: list of essentials
When embarking on an outdoor adventure, one of the most important items to pack is a first aid kit. But what to put in it?
Here's how to pack an effective first aid kit that's tailored to the details of your trip, such as duration, number of participants, location, weather conditions and expected injuries.
Essential supplies
Your kit should contain a variety of supplies that will help you treat minor injuries and medical problems during your outdoor adventure.
Some basic items:
• Bandages (gauze pads and adhesive dressings)
• Antiseptic wipes or spray
• Tweezers and scissors
• Antiseptic cream or ointment
• Disposable gloves to prevent infection and cross-contamination
• Cold compress or ice pack to treat inflammation
• Pain relievers such as ibuprofen and acetaminophen
• Antihistamine tablets for allergies and insect bites
• Sunscreen lotion with 30+ protection against sunburn
• A thermometer to check body temperature
• Emergency contact information (including local emergency services)
• A whistle to signal for help in an emergency
• Insect repellent to keep insects away
• A headlamp with spare batteries
• Safety pins and tape
• A pocket knife. If you are traveling abroad, make sure it meets local regulations.
• An emergency blanket or shelter if the weather turns bad.
Consider the location and weather conditions
When choosing supplies for your first aid kit, consider where you'll be traveling and the type of weather conditions you may encounter during your trip. Be sure to pack items that are appropriate for the environment. For example, if you're going somewhere cold, bring a hat as well as layers of warm clothing so everyone can stay warm. If it's hot, make sure everyone has enough sunscreen. If it rains frequently, make sure everyone has rain gear, etc. Also, if you are packing items specifically designed for an outdoor activity, they will come in handy if someone gets hurt while doing that activity (e.g. snowmobiling).
Consider weight and volume
Choose lightweight items as much as possible so that they don't add too much weight or bulk to your bag, while still providing effective treatment in case something happens. Also consider carrying small containers rather than one large one, as they can easily fit into pockets or bags without taking up too much space. You can also opt for multi-use products such as medical tape, which serves as both a bandage and a plaster depending on the size of the wound.
Length of stay and number of people
It is important to consider the length of your stay and the number of people in your group when preparing your first aid kit.
For a shorter stay, you may want to consider a smaller, lighter first aid kit. However, you should not sacrifice quality or quantity of items to save space or weight. Just make sure you have enough items to cover the needs of the entire group for the duration of your stay. If you are going with a large group, it may be helpful to divide the first aid kit items into several kits for different members of the group. Each kit should have enough items for individual needs, but also to be able to share with other members in case of an emergency.
How does it work?
Finally, it's important to know how to use all the items in your first aid kit. Take the time to read the instructions and practice using the items before you go on your trip. Ideally, take first aid training in remote areas. In the event of an emergency, it is essential to know what to do and how to do it.
Conclusion
It pays to be prepared when going on an outdoor adventure! By taking the time to create a customized first aid kit based on factors such as duration, number of participants, region/location/weather conditions, you'll ensure that everyone has access to the medical supplies they need in case something goes wrong on the trip. With these tips in mind and a little common sense, you'll have everything you need to enjoy a safe trip! Have a safe trip!
The first aid kit: your ally for every outing
You prefer to buy a first aid kit already designed for your outdoor activities? It's HERE.