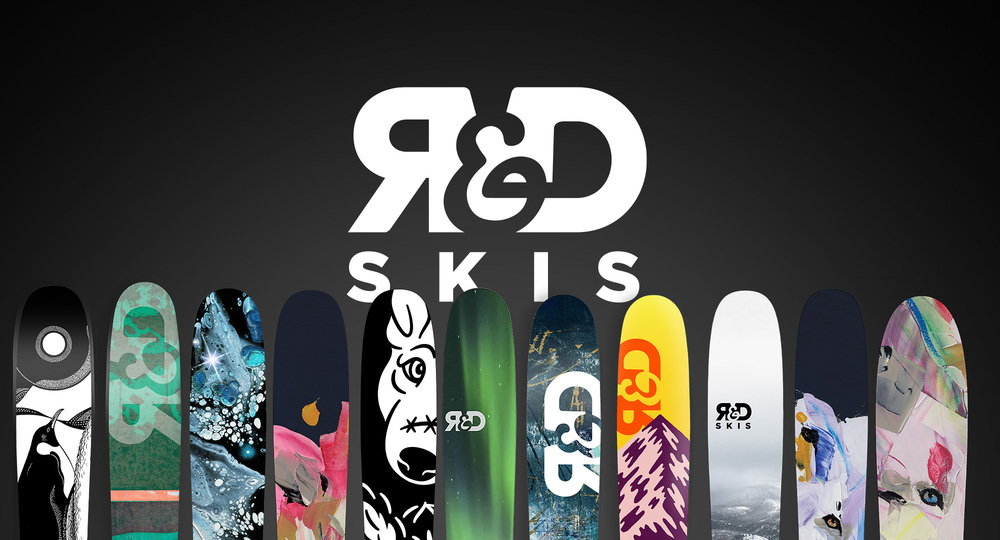 R&D SKIS and Banff Quebec: WE FLIP OUT TO BE THERE!
A text from Guillaume Belhumeur (the little one) and Mathieu Gauthier (the big one), caleed the « ski-entific ».
My partner and I have been following the Banff Mountain Film Festival for years and years (and years). Never, in the last 15 years, have we missed an edition.
So when, 3 years ago, we started R&D Skis, one of our wildest dreams was to contact the Festival, to see if there was anything to do.
You see: a ski company made for enthusiasts = Festival, for ski enthusiasts (among others).
We'll tell you, we didn't have much hope that we, a small ski company started in the garage, would succeed in attracting the attention of the Festival.
Not only did we succeed, but Stéphane Corbeil, the head honcho, offered us a great partnership with visibility. Go back three years (yes, that famous year of the pandemic), and you'll see that our skis were well integrated in the Festival's presentation videos!
Anyway, here's a quick intro to tell you that we're proud to be back as the official backcountry ski partner of the Banff Mountain Film Festival's Quebec Tour!
In short… WE'RE HAPPY TO BE THERE!
Thank you Stéphane and the Festival gang!
***
THE LITTLE STORY OF R&D SKIS
Once upon a time, two high school buddies decided to start a ski company. One was a ski giant. A 6'7″ guy (no joke) who was into skiing. He dreamed about it, he did it, he ate it. This guy, by dint of his dreams, became one of the greatest ski designers in Canada, designing skis for several companies you know. In fact, many of the skis he designed won awards!
Once upon a time, there was also a little guy in the ski industry. This little guy had an entrepreneurial streak from a very young age and it goes without saying…loved skiing. He had already owned a ski store about ten years ago and the giant, at the time, had started tinkering with his first skis in the warehouse. We didn't know it at the time, but the spark that would set our ski company on fire was starting!
These two guys had been good friends since high school. Three years ago, they decided to join forces to start a Quebec-made ski company, with Quebec materials! Since the giant of the two is a true ski scientist – he's been skiing for over 10 years – and doing research and development on skis is his hobby, we decided, in his honor, to call our company R&D Skis! Better yet, we came up with a nickname for the giant, the "ski scientist". Capice?
I know it, I know it: you will say "but that already existed! There are 2-3 Quebec ski companies". You're right. So we had to distinguish ourselves! So we decided that we would not sell in stores. Yes, yes! You read that right! Skis sold only online! And why? Because by selling directly from the factory to you, we eliminate a middleman and you save money!
Take a look at our website where you can get our beautiful skis: rdskis.com
Another distinctive element: our skis are always limited editions. Because we have an artistic side, all our graphics are always works of art signed by local artists. We don't produce many of them so that you can ski without seeing your skis at the feet of all the skiers on the lift… another way to be different and 100% Quebecois!
In closing, you should know that we don't take ourselves too seriously, but that we work very seriously. Our skis are made and designed with a specific goal in mind: to have FUN! Since we started, more than 500 skiers have had fun with our skis all over Canada (we deliver free of charge everywhere in Canada). With our four models, we've got something for you, that's for sure! (But we're already working on a 5th model… and a 6th… that's it)